Do you ever get captivated in child's play?
Today, K and I were feeling a bit under the weather with sore throat and all that accompanies it.
The boys went ahead with the normal church schedule and K and I stayed in our jammies all day.
Not the usual, but nice.
Nice to slow down and just be.
I wish you could have heard the sweet conversation that occurred during this setting.
She has the sweetest little cafe personality including a fake British accent coupled with a little southern hospitality.
She said "everything is free in my shoppe".
That's my kind of sweet shoppe!
While not the entrepreneur, she's the perfect host, baking up yummy goodness and serving tea and crumpets along with captivating conversation.
Watching her reminds me that my job as her mother is greater than any other I have.
It's amazing to me that she is already developing homemaking skills and the natural instinct is already there to love her doll babies.
Talk about an opportunity!
The opportunity is there for all of us, we just have to accept the challenge.
So, the next time you are invited for tea and crumpets, I urge you to willingly accept.
May God grant me the wisdom to teach her to be meek, kind, trustworthy, thankful, loving and all things Christ like.
Let "her" touch the dying, the poor, the lonely and the unwanted according to the graces we have received and let "her" not be ashamed or slow to do the humble work.
Blessings,
Anna
This post featured at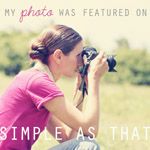 Other shares: